Dear users and visitors of Adadaa;
As you know, Adadaa is the first and only publishing platform based on WordPress to have the ability to type Tamil directly inside. That was our first feature of Adadaa as announced in our first post. We recently added most acclaimed keyboard layout for its performance: Tamil99.
Typing in Tamil directly easy as selecting a keyboard layout you prefer. When you visit Adadaa.com, you will see at the top right corner – a bar with all Tamil keyboard choices as shown below.
In the Tamil keyboard choices, you can chose the one you are familiar with and start typing directly inside adadaa.net. Not only on comments, and search sections of the blogs in Adadaa.com, but these typing layout applies to all section of the blog. Administrators of the blog will have this functionality inside the admin side of the blog, so they can directly type Tamil almost every field including Post. The password field is excluded from this as it would be very confusing.
Here are some of admin site where you can type in Tamil directly. I have circled the places where Tamil can be typed directory without a need for another Tamil typing software.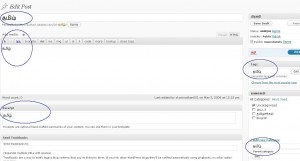 To switch between English and French, press F12
It is also very easy to switch between English typing and Tamil typing. While you were typing in one language, there arise many occasions you would want to type particular word in another language. Adadaa.com Tamil typing allows easy switching of language by pressing F12. When you are typing in Tamil, just press F12 and start typing in English and again press F12 and voila, you would be typing in Tamil layout you have already chosen – again all in one line!

Administrators of Adadaa blogs can chose the default keyboard layout for their entire blog. A visitor to your blog will use the default keyboard layout you have chosen, but can also change the keyboard layout as they aspire. Below is a screenshot of administrator's panel for chosing default keyboard layout:
Administrators of Adadaa blog, please click the circled link, after logging in with username and password as shown below: